Many of you are nervous around electricity. Good. So, where do we start to diagnose a growing hot-start problem where the starter does not engage or a global electrical failure that includes no warning lights when you turn the key to "on"? You can hear it already, "it's prolly the ignition switch blah blah blah ..."
But let's be precise and zero in specifically on the exact part/place that we lost our electrical path. People get scared looking at all of those wires under the dash, but here is the good news, don't worry about all of them. At any given moment,. we just need to trace the specific single wire that we are chasing. Read the Electrical Overview and come back here.
KEY:
BOLD
is fuse number
Upper terminals on the actual fuse box are fuse-protected
Lower terminals on the actual fuse box are incoming not yet fuse-protected
Upper terminals
on diagram
are incoming
Lower terminals
on diagram
are outgoing
#
prefix is German nomenclature as spelled out in overview
As a tip for your sanity, go find a colored wiring diagram for your VW online and download it, print it, and laminate it under clear plastic. Do NOT download a fuzzy craptastic diagram. You need clarity! The Bentley manuals are such a horrific joke nowadays, their wiring diagrams look like the copier was running out of ink and they have shrunk below legibility. Let's avail ourselves of the good side of the internet.
The below process is for a late model bus, but it generalizes readily to any air-cooled Volkswagen. You only need a wiring diagram to help you with colors and locations. You *may* need to use your finest logical deduction skills if your wiring has been hacked by some chimp attempting to wire in a stereo, or if they have been sprayed over by a wildly out-of-control painter. If you see cheesy aftermarket spade connectors and wires of questionable color, then you may have to ignore color and assess source/destination of wire in question.
My symptoms, as stated, were a growing problem with the key refusing to engage the starter when warm, and eventually no idiot lights when turning the key to on. I (all of us) do not ever want to read:
"It's prolly the ignition switch, I had that happen to me but even with a new switch we never got it to start correctly so we put in a push button for the starter and a toggle switch for the ignition, it's like a theft deterrent (no, it's NOT)."
(10/2/18 just did an appointment in Phoenix that had a push button for the starter AND another appointment in Las Vegas that had a whole stupid separate wire for the ignition coil, read all about it!
viewtopic.php?f=77&t=13705
Let's follow the path from the battery to the key and back to the starter.
A) Disconnect negative battery post.
This one is perfectly safe if your wrench accidentally touches metal. Once it is off, the positive side is dead too and you can remove the positive post without fear of sparks. Clean battery posts and insides of wire terminals, shiny clean.
(heck, go remove and clean the ground cable end where it joins the body of the car, shiny! dielectric grease! reassemble! keep negative terminal off battery until we are done here! important!
B) Preliminary
Go to the starter solenoid and remove the 13mm nut and the battery/alternator/heater blower/double relay,/big red/white wires that all have eyelet ends. Clean every one shiny. I use a razor blade. Reconnect them to the solenoid #30 post smeared with dielectric grease in the following order:
1 battery cable
2 alternator wire
3 big red/white wire
4 red wire to double relay
5 red wire to heater blower
6 flat washer! not a lock washer! flat washer!
7 clean 13mm nut - secure only lightly, like 5 ft/lbs max
http://i187.photobucket.com/albums/x133 ... 20150p.jpg
C) Scope It Out
So where would you go next? Why, up front of course. We are marching towards the ignition switch from the battery. Remove the two screws that hold your late model bus fusebox to the intake plenum and gently pull it down as you look for any tight wires to massage free. Look for the wiring loom that sprouts up under the intake plenum on the driver's side. It has a lot of wires and stuff. Look for that red/white wire from the starter solenoid #30 post. It terminates at the
9
fuse bottom terminal with a plastic sleeve and it busses over to
8
.
This is the Big Cajuna. This is your entire electrical supply to the ignition system, lights, wipers, emergency flasher, horn, etc. Know this! There is also a jumper wire, a short red wire that goes from
9
bottom to
7
bottom, full time battery voltage is at
7
The Accessory Fuse Terminal. Put your low amp full time electrical accessories at
7
top (8a protection) and you can also put full time accessories at
9
top if you need its 16a protection.
Now, the electricity branches out from here. You should know that the bottom row of blade terminals in your fuse box are the "incoming" electricity, and the upper row is the "outgoing fuse-protected" electricity. So
8
and
9
bottom are straight from the battery, and any wires that leave from these bottom terminal are as yet unprotected and they are red. That means that the red wire that leads to the ignition switch #30 (hot) and the red wire that leads to the emergency flasher switch #30 (hot) are not protected! and they have battery voltage at all times! The red wires that leave from the top of
8
are also hot at all times, but they are at least fuse-protected. They go to the interior lights.
So, now we know that electricity has arrived at the fusebox, and it has been directed to the ignition switch #30 via a red wire. When we turn on the ignition, that red #30 supplies voltage to the #15 black wire coming from the ignition switch to the bottom terminals of
11
and
12
.
Remember, this #15 black wire eventually feeds 12 volts to your coil after crossing the buss bar along the bottom of
11
and
12
and leaving through another #15 black wire that has to go back all the way to the engine compartment to the #15 coil terminal where it also feeds your reverse lights! your double relay relays! It feeds your instruments and your warning lights off the top of
12
through a #15 black wire that leads to the instrument cluster and it also feeds your brake light switches AND turn indicators: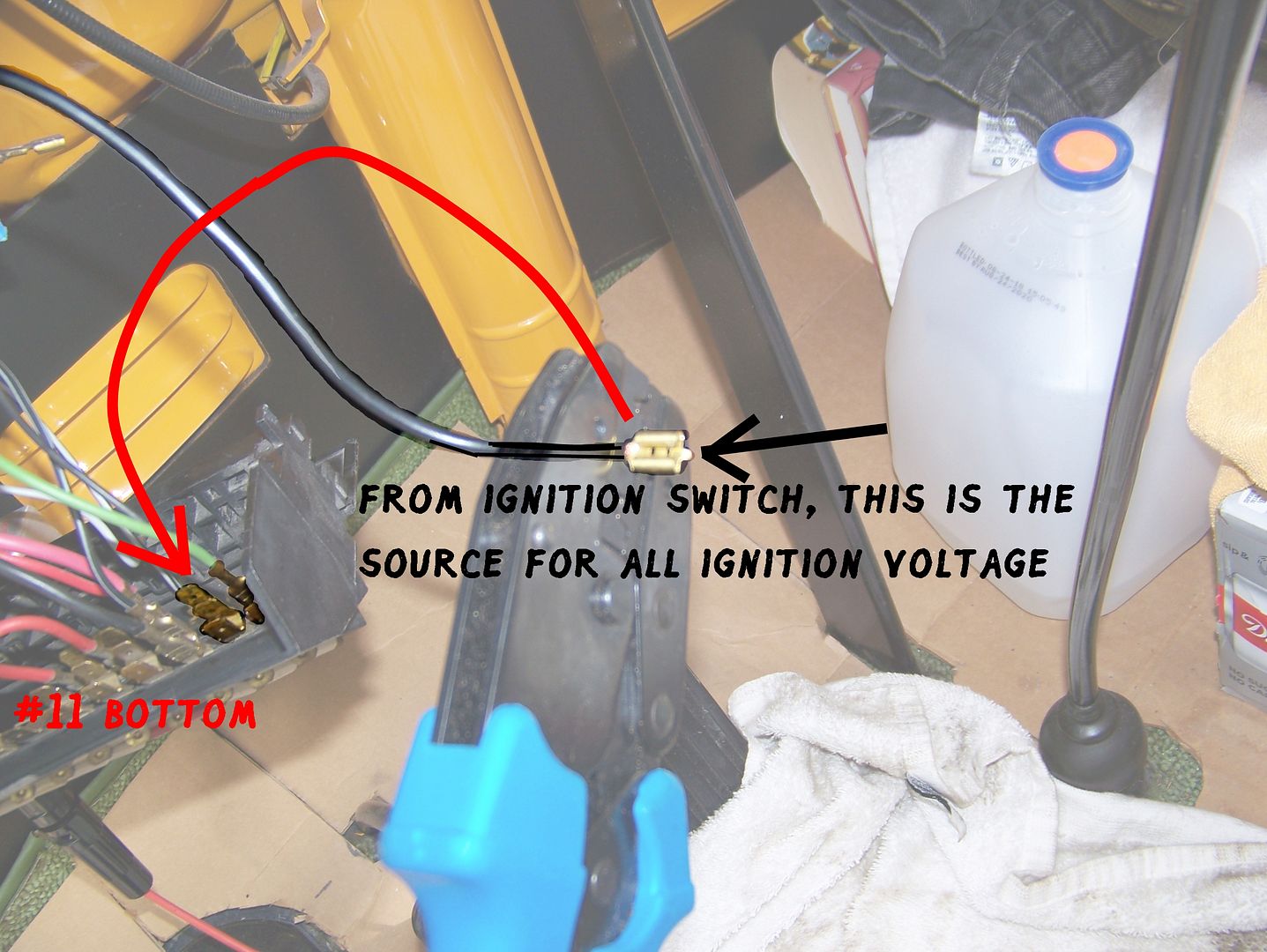 Let's talk about the fascinating Fuse
10
and how it relates to the famous "X" terminal on the ignition switch and headlamp switch. So many people get lost here and lose the feature introduced in all Volkswagens from 1971-on. The feature was ostentatiously advertised as a "relay-controlled (US)" or "automatic" (CAN) headlamp dimmer that shut off the headlamps when you turned off the ignition. It is merely a trick little terminal (X) in the ignition switch that only powers up in the "on" position and it powers down when "off" and *during start*. "X" sends 12 volts via a big black/yellow wire to the headlamp switch. The headlamp switch of course runs the parking lamps and needs a #30 power supply from Fuse
8
bottom. BUT, 1971-on headlamp switches also get an independent 12 volt supply to run the actual headlamps,
only from "X"
. Therefore, you get headlamps only with the ignition "on", not "off" and not during "start". Simple, brilliant. But, they also decided to let "X" run the entire Fuse
10
circuit. As above, Fuse
10
only gets voltage during ignition "on" but not "start". Thus, your rear window defogger and your wipers also stop during "start"!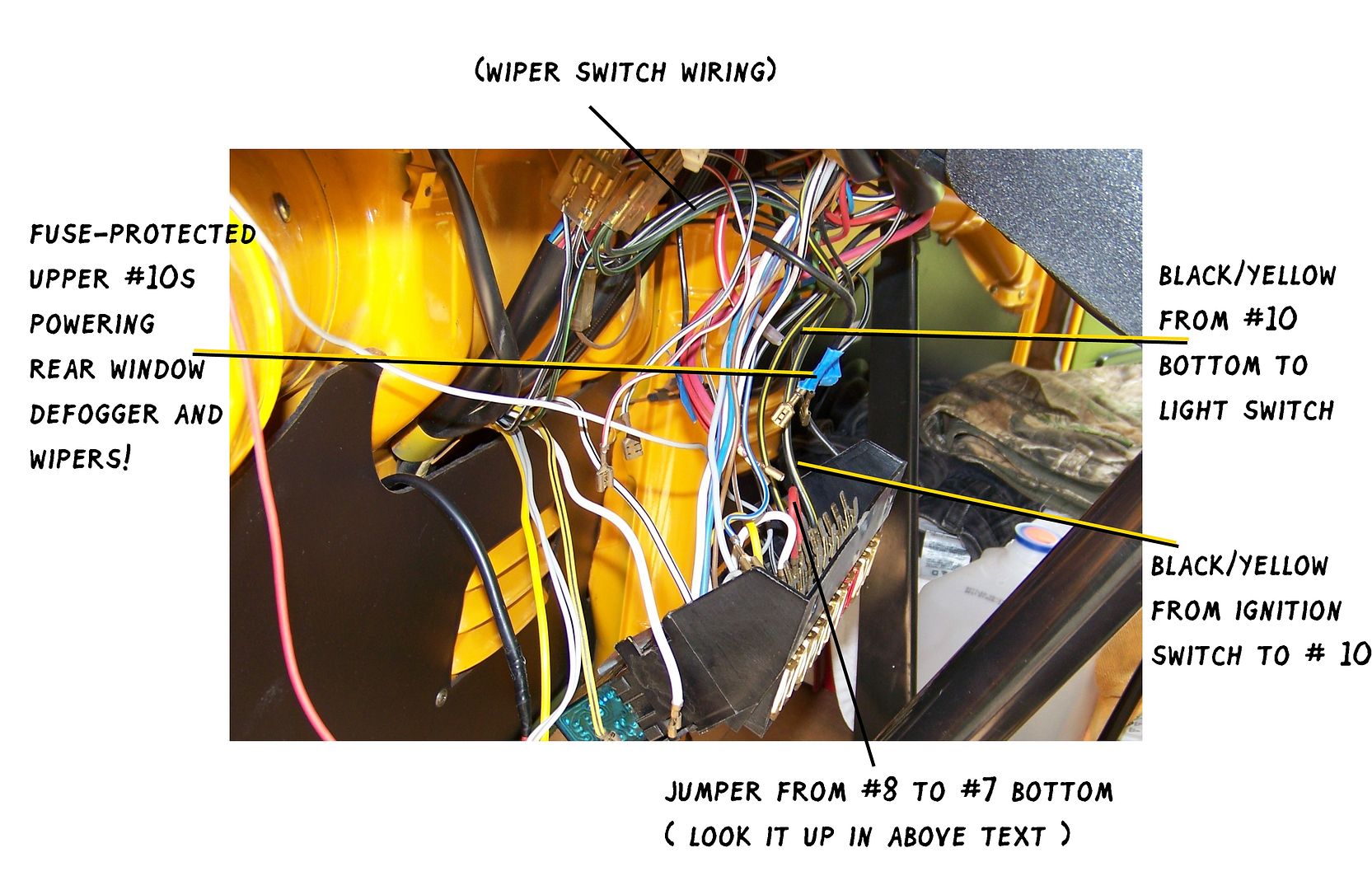 Fuses 1 and
2
bottom terminals have a grey jumper wire powered from the light switch to run the taillamps and parking lamps. By law, illumination has to be split amongst more than one fuse.
Fuses
3
and
4
are bussed and get voltage from the dimmer relay on low
Fuses
3
and
4
upper (fused) are split to run the low beam left and the low beam right.
Fuses
5
and
6
are bussed and get voltage from the dimmer relay on high beam.
6
upper also has a blue/white wire that informs the high beam indicator in the fuel gauge array. See how easy this is!
Fuses
5
and
6
upper (fused) are split to run the high beam left and the high beam right.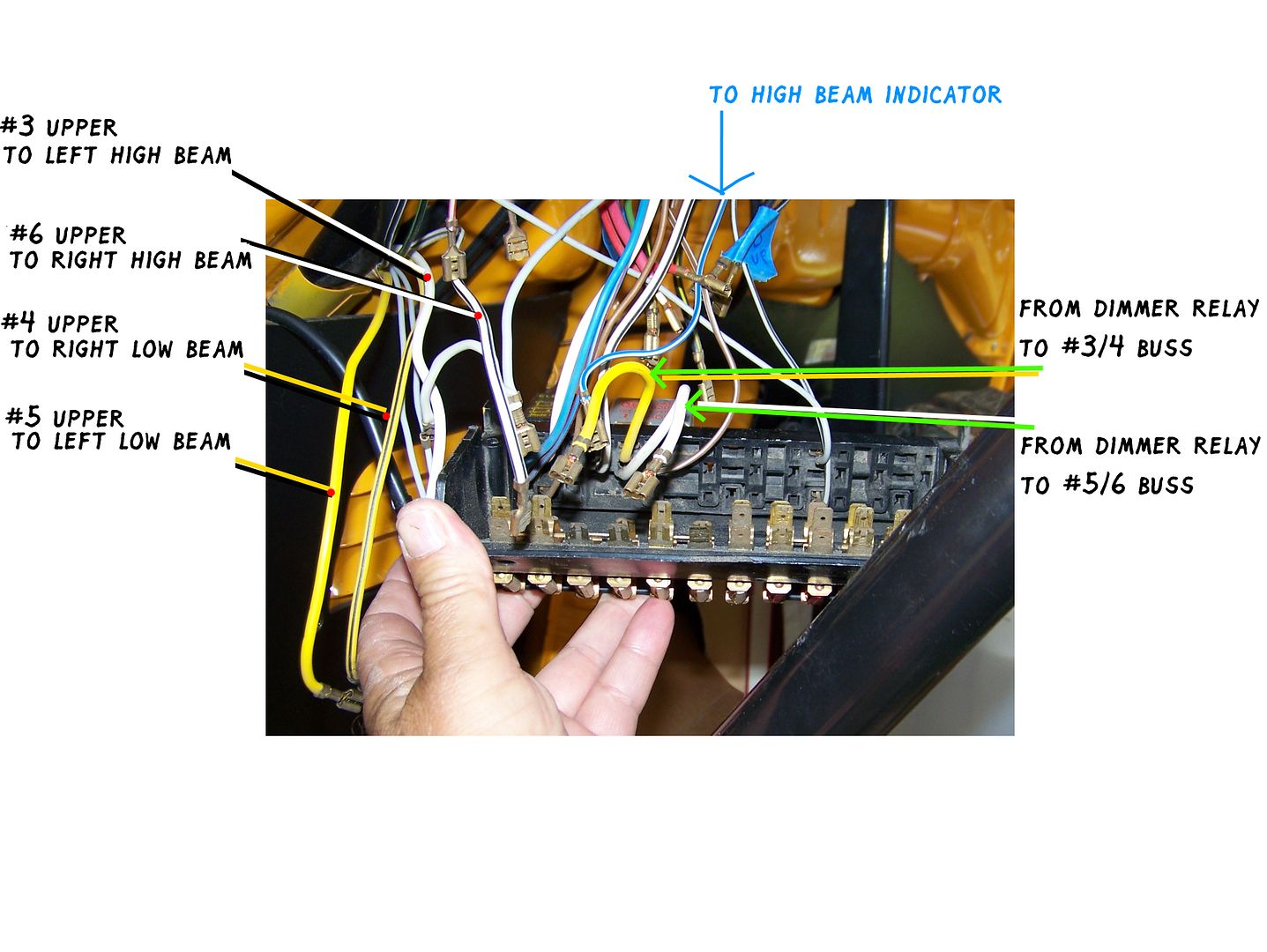 Note For Earlier VWs
Just to expand the epistle here a little, the 1969 and 1970 VWs do things a little differently. When you look at your wiring diagrams, they merely lay out the source/destinations of all the wires. You don't get to see how the components direct the flow.

So on the '69-'70 bus diagram, note that the Big Cajuna power supply wire from starter solenoid #30 goes directly to the poor light switch and is then directed to the ignition switch and off to the buss bar at the bottom of fuses 1 and 2. Then, through 2, a mere 8a fuse, to the emergency flasher switch and ceiling lights, but why a 16a fuse at 1 that merely leads to the rear ceiling light? Well, I can't figure that out. I think it is a Bentley misprint, and I bet 1 is supposed to be a 8a and 2 is supposed to be a 16a. I would execute that judgment call in a second. I would also look at fuse 5 and see that it runs the wipers and has a #30 terminal with a black wire leading to it. Shouldn't it be red? Well, it is only powered through the ignition switch, so I'd guess that the 30 is merely saying that it is the power supply for the wipers, but necessarily hot at all times. Judgment calls ...
D) Disassembly And Cleaning
Oriented, now you can rip all the wires off the fusebox without having to label them tediously. I do tie some like color wires together if they share a terminal. Now you can clean each terminal blade. I use a razor blade, followed by some 1500 or 2000 grit sandpaper wrapped around a small screwdriver. Then I follow with a paper towel soaked in a little GumOut carb spray. There is much discretion here. Asiab3 uses a Dremel and polisher, whatever it takes . . . See how clean and pretty it is? Then I blob dielectric grease on every single spade blade, every single spade blade: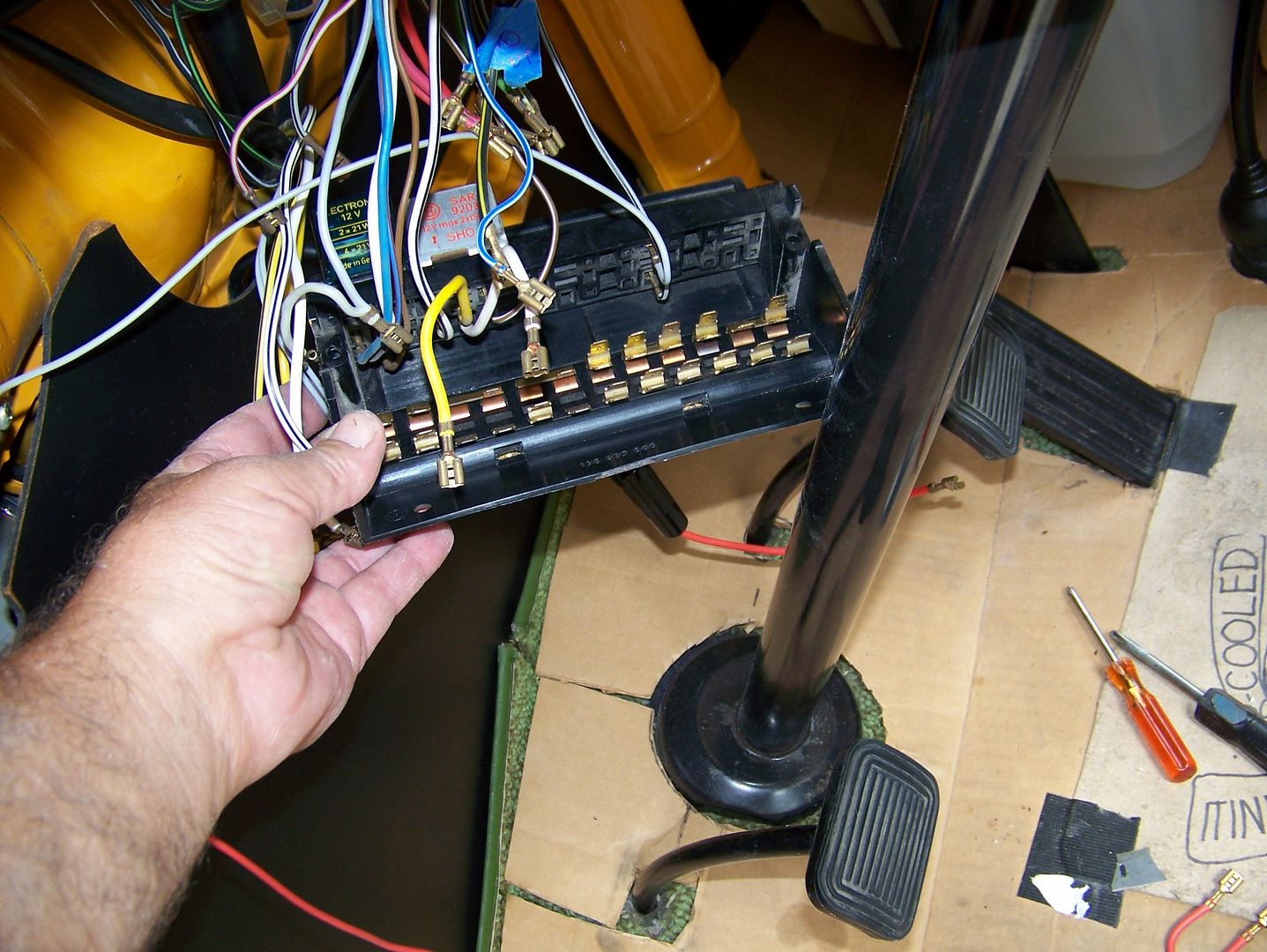 E) Stress Test
Each and every spade terminal (that's the female on the end of the wire) that I put back on was treated to a little vise grip squeeze (limited by the vise grip jaw adjustment so as not to over-crush the terminal closed). And that is where my problem was. Yep, the big #15 black wire spade terminal that leads from the ignition switch to
11
which busses to
12
and fires up those idiot lights had an almost invisible fracture. It pulled off the blade terminal at
11
a little too easily. As I tried to pinch it down a little, it just broke. I replaced it with an oem style brass spade terminal that crimps to the wire and the insulation on the wire simultaneously.
Three of forty spades failed this stress test by splitting apart. The emergency flasher #30 spade terminal also did not survive the stress test. It appears that if these terminals get a little loose, the resistance through the spade to to the blade heats the brass? then gets brittle?
Don't even bother buying trashy FLAPS chinese junk potmetal spade terminals, they utterly stink. I had a bunch of those nice oem brass terminals that you squeeze with the Make It Look And Behave As Original pliers from AliExpress or Oz Auto Electric or someone.
Narva 56224 Blade Female Terminal Non-insulated Brass with Locking Tab 6.3 x 0.8mm dia (Pack of 100):
Insulated Terminals Crimping Tool 0.5-2.5 sq mm For Splice Crimp Connector SPADE TERMINALS ring Terminal Plier
Now remove every fuse. They contact spring-loaded fingers with holes in them. Spin a little phillips screwdriver in the holes where the fuses insert. Then apply a light dab of dielectric grease to each hole: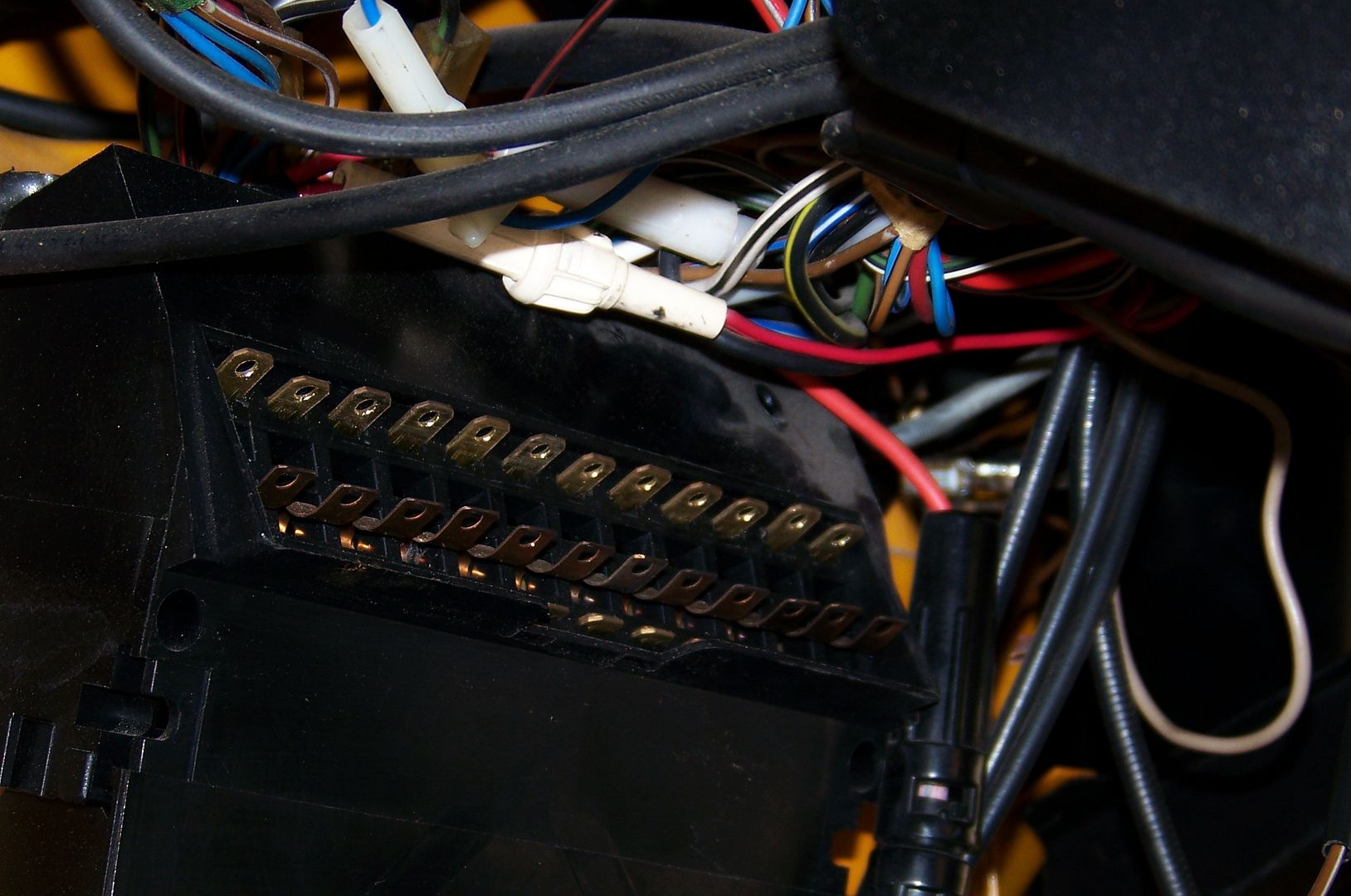 Reinstall your correct amperage fuses. White 8a fuses are predominantly used. Only two red 16A fuses are called for in the
8
and
9
positions:
For fun, disconnect this big eight-position connector under the steering column and hit the blades/spade terminals with dielectric grease. This plug has been known to cause more ignition switch or starter replacements than ever should have been performed.
I no longer have:
* any sudden death of warning lights when I turn on the ignition
*any hot start issue (though it could come back)
(edit 10/2/18, hot-no-start came back, but now it is fixed but good, see p3:
viewtopic.php?f=77&t=13688&start=30#p230829
I now do have more stable illumination when the turn indicator is on or when I step on the brakes or turn on the heater blower.
Colin
( so .... are all of your idiot lights now dead when you turn to start? That's because you didn't do
F) re-connect battery terminals
)