I owe you all still many stories, like how The Miz and I vanquished his horrendous oil leak in Minnesota . . . :
. . . and pictures, too: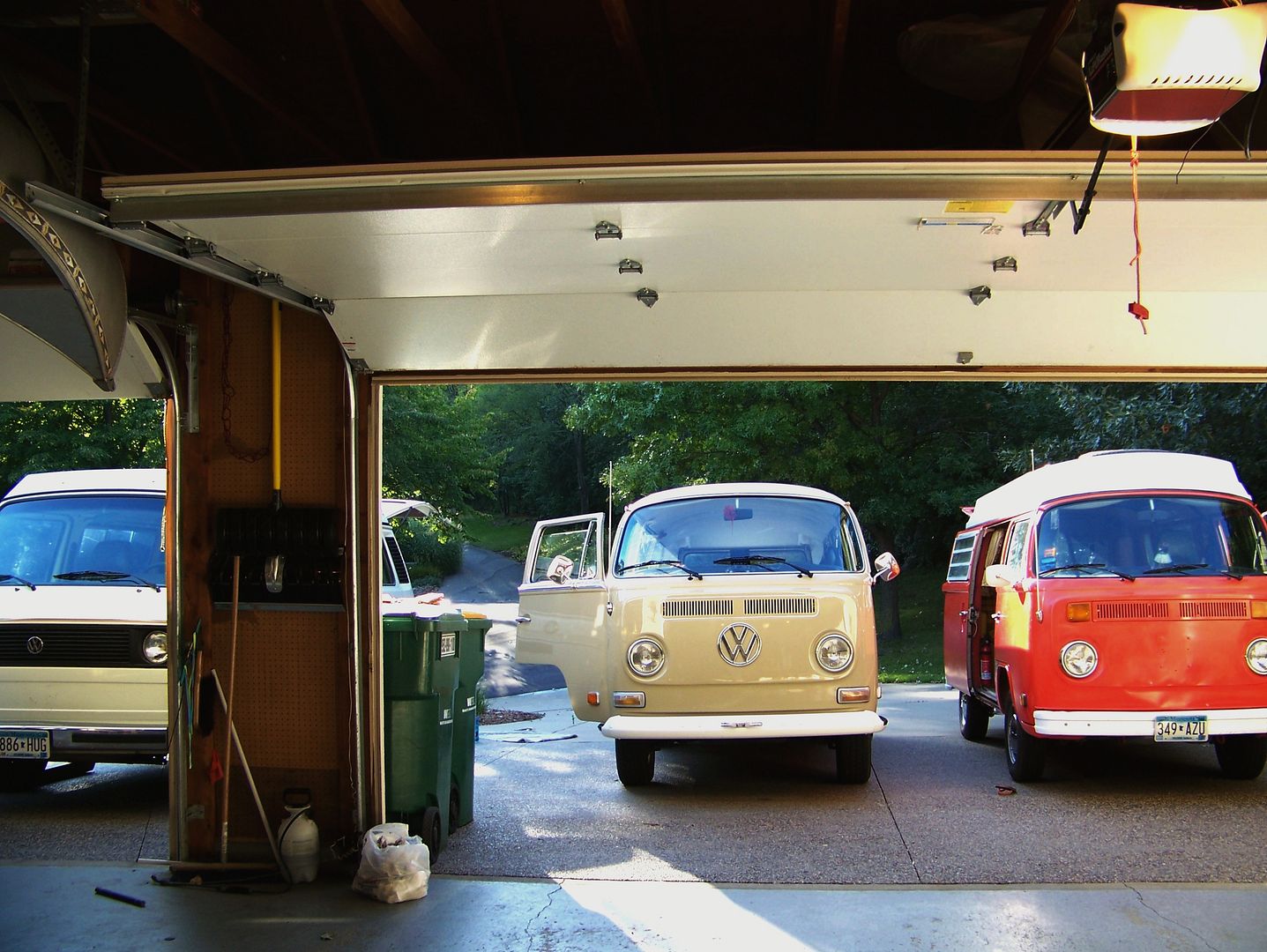 . . . and some silly little victories, like the repair of Chloe's passenger door latch (so people can escape from my car without the need for a valet) with a vent link spring in place of the missing latch spring (which was found a week later inside the other door!)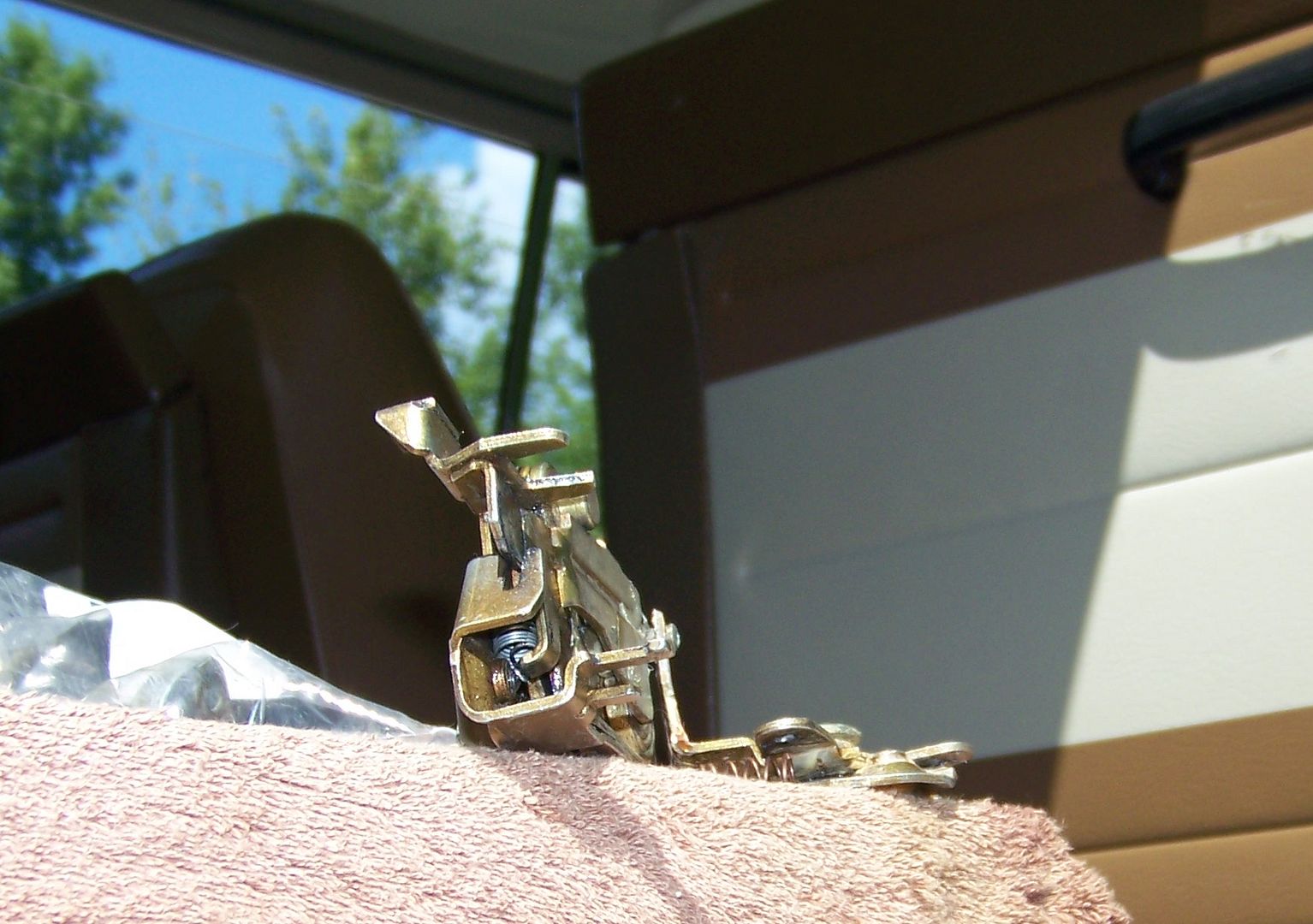 but I am still on the conveyor belt of the itinerary, I am but 20 miles from the border of Vermont with my fingers crossed that a New York Officer Of The Law does not pull me over for:
a) no front license plate
b) no registration sticker
c) no inspection sticker
d) no proof of insurance card.
Yesterday I visited Vdubtech!
That's a dual sliding door early bay!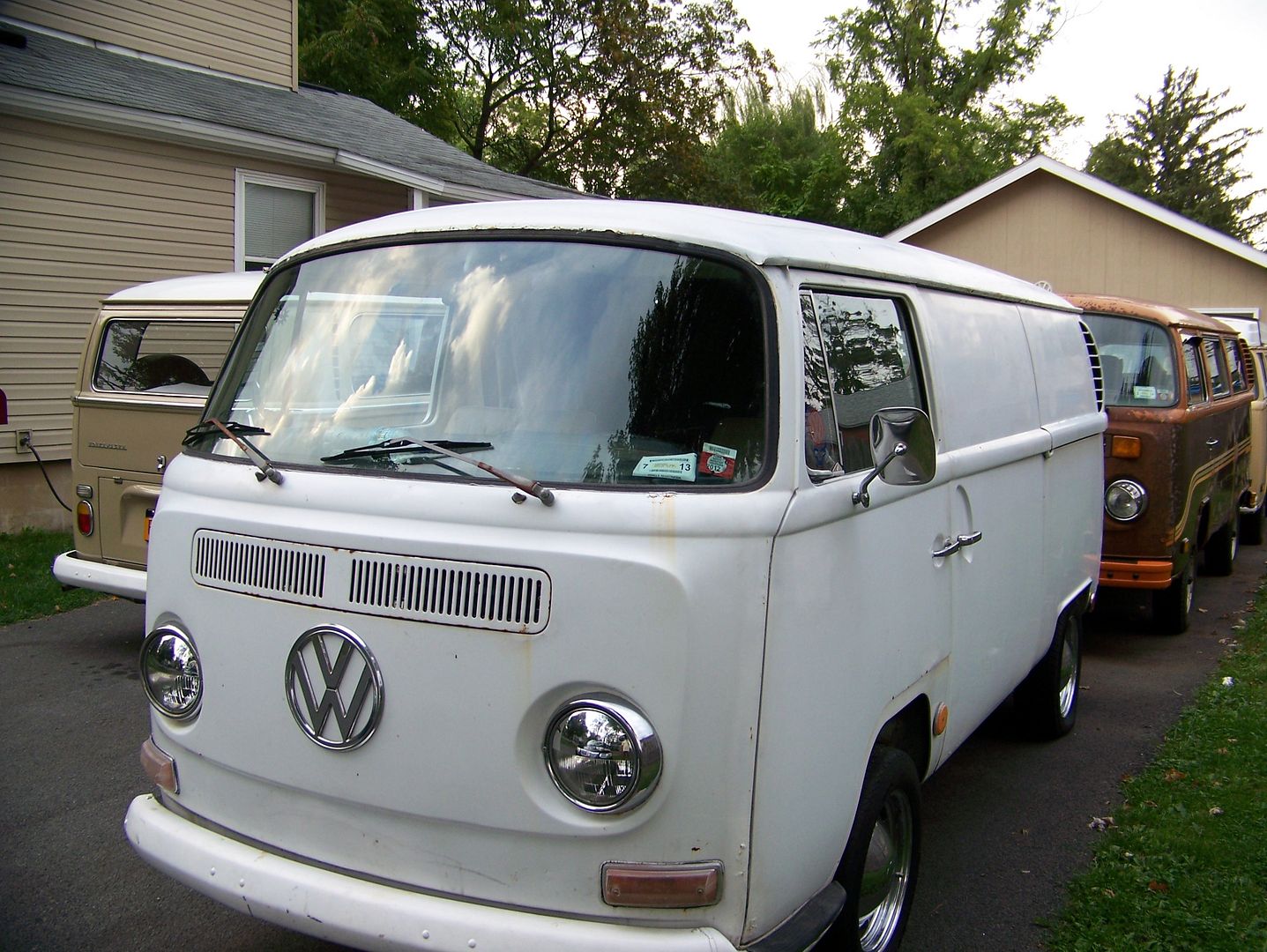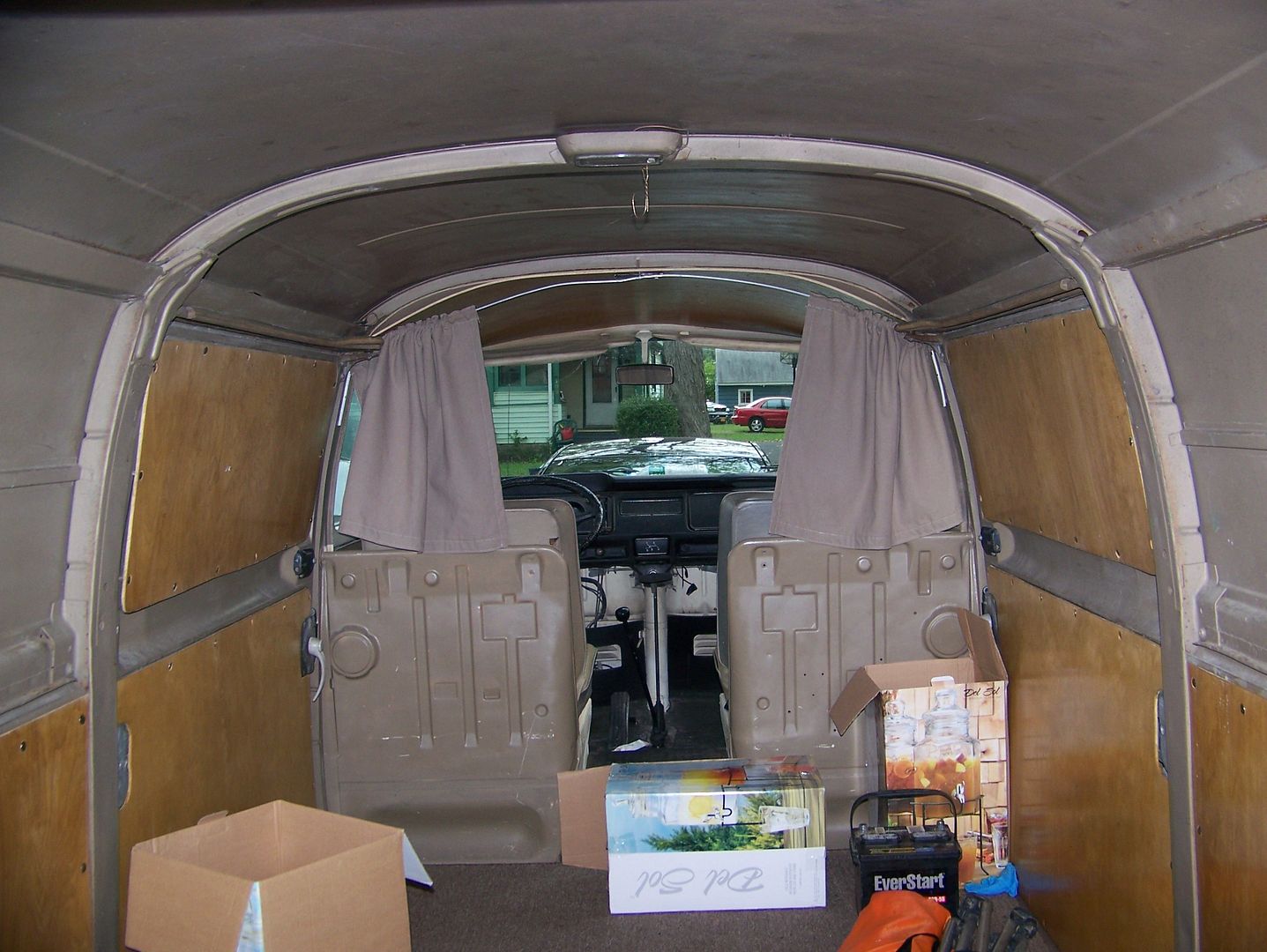 Only problem with this visit is that Vdubtech was not there!
Today, I pulled off the New York State Thruway exactly where the Lexus fuel pump passed out in mid-May. I noted that this 42 year-old Volkswagen has not broken down once! in the past 16,000 miles, and on this itinerary the only mandatory part replacement has been an $8.79 fanbelt. That's right, the Lexus did indeed strand me with all anxiety until I figured out how to hotwire the low-amp fuel pump circuit, this bus has always started and moved when asked, even as I take things apart (like generators and door latches and ball joints!) to freshen them up. It is running absolutely gloriously.
But yeah, I pulled off to finish the undercoating job that I had only half-completed. I had to make three new drain holes in that disgusting cheap horribly spot-welded left rocker panel, because it had *no drain holes*!! Whacked a chisel up in between the rocker panel and the inner panel, then vise-gripped the seam around the chisel to look mostly like the original drain dimples: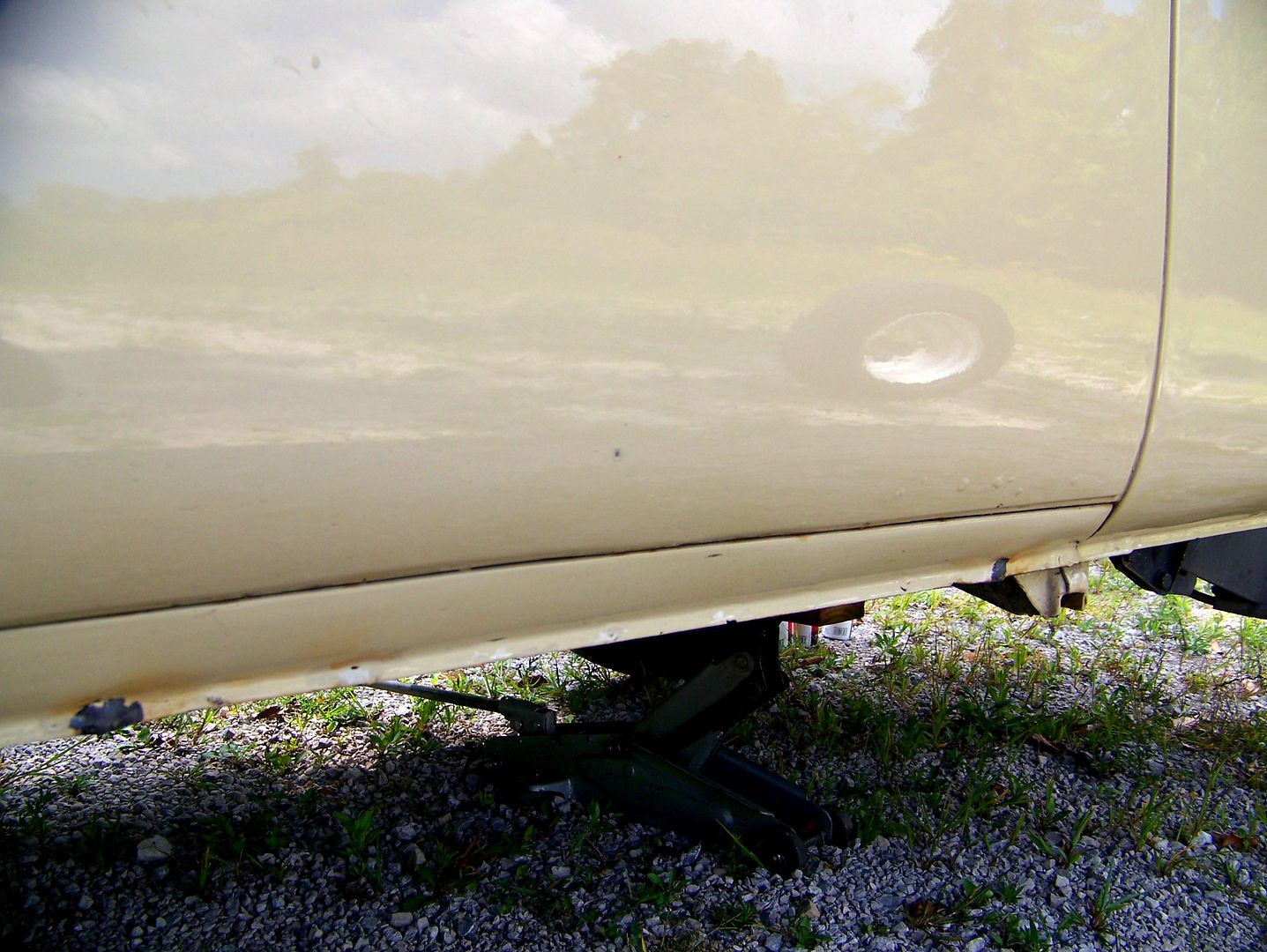 You can see the excruciatingly amateurish spot welding here, where the spot welder left chunks of welding rod between the panels, you should have seen the rust that has taken hold inside. Some poor dentist's office parking lot sure has (I borrowed the water hose AND REELED IT BACK UP NEATLY, THANK-YOU):
I checked all drain holes, which is what you are supposed to do when applying undercoat, and found that there was no way to ream out the drain holes on the front beam, they would not accept my special paperclip reamer. I tried to pry the drain holes a little more open, and found fresh beautiful shiny steel under the paint that I splintered off the drain dimples in my efforts to open them up. "Aw, the front beam is good . . ." right? Wrongo. You *know* that clogged drain holes are trouble. Got out the drill and punched divets at the bottom of the stamping where the drains come down. Drilled up to 4mm diameter. Got my trusty painting coat hanger . . . :
. . . . and *look! at that pile of terrible rust inside that shiny metal perfect-on-the-outside beam!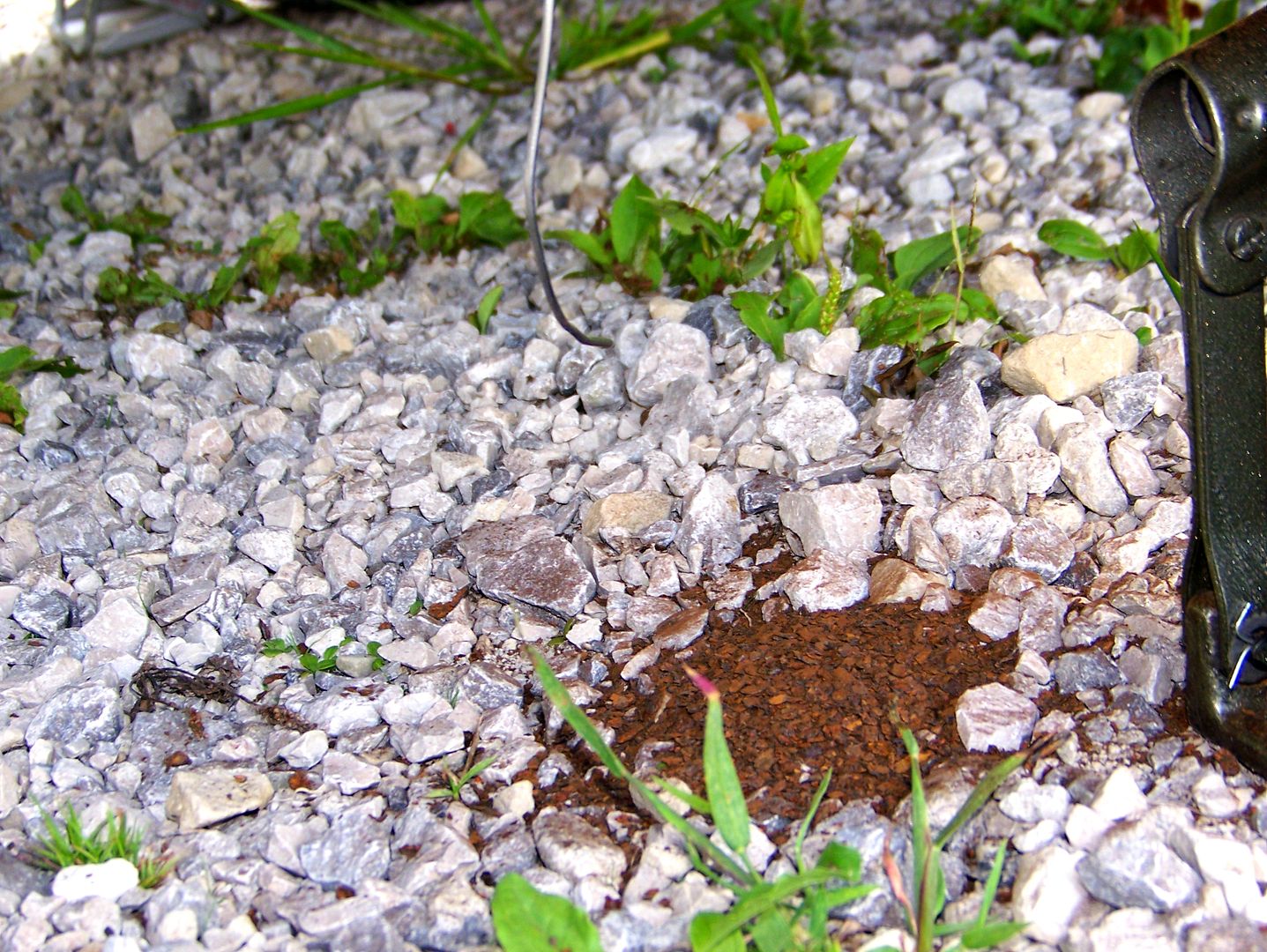 I took a good hour of ceaseless hanger scraping to break up and drive out large particles of rust in that perfect-looking beam. Then I got the MarHide Rust Converter and pried out the spray nozzle. A carb cleaner straw fit perfectly. Sprayed and sprayed . . . sure could have used Hippie's compressed air. Drenched it as best I could and finally got the undercoating job done. Once again (seven years of this with the Road Warrior, one year with the BobD) I find that a half-hearted undercoat or paint job is worse than not even trying. I shall now recommend that we all drill our front beams right at the drain dimples and start clearing out the accumulated rust/dust/mud/beam-destroying blockage. Do not even think that the outside is any indication of what is going on inside.
Must hit the road for Vermont. No police please.
Colin