Our poor country . . . so held back by the short-sighted people hanging on to their power and privilege. Our Nation's project, to lead the world into the 21st Century with our unique talents and gifts, appears rudderless and unable to reach any sort of consensus. I have been driving our Nation's ever-deteriorating roads to slowly dying towns where only corporate box stores provide "sustenance" but there is no community in that. I found Historic Route 66 damn close to undriveable at any speeds above 30 mph, so buckled and dried out is the pavement. All of these international tourists, what do they think of Historic Route 66 as it bashes them to these successive dead towns where the tourist appeals are desperately hopeful but definitely a bit thin in the appeal department? Are they touring the late great United States?
I toured Historic Route 66 to a splendidly isolated overlook of New Mexico's eastern brushlands :
. . . and was able to spend three hours parked on Historic Route 66 on:
a) an end-to-end removal and lubrication of the accelerator cable,
b) installation of my spare Mexican Hella turn signal lenses (the genuine Germans have taken to cracking from road debris hits)
c) a primer/clearcoat of the intake air doors
I understand why people like the clear turn indicator look: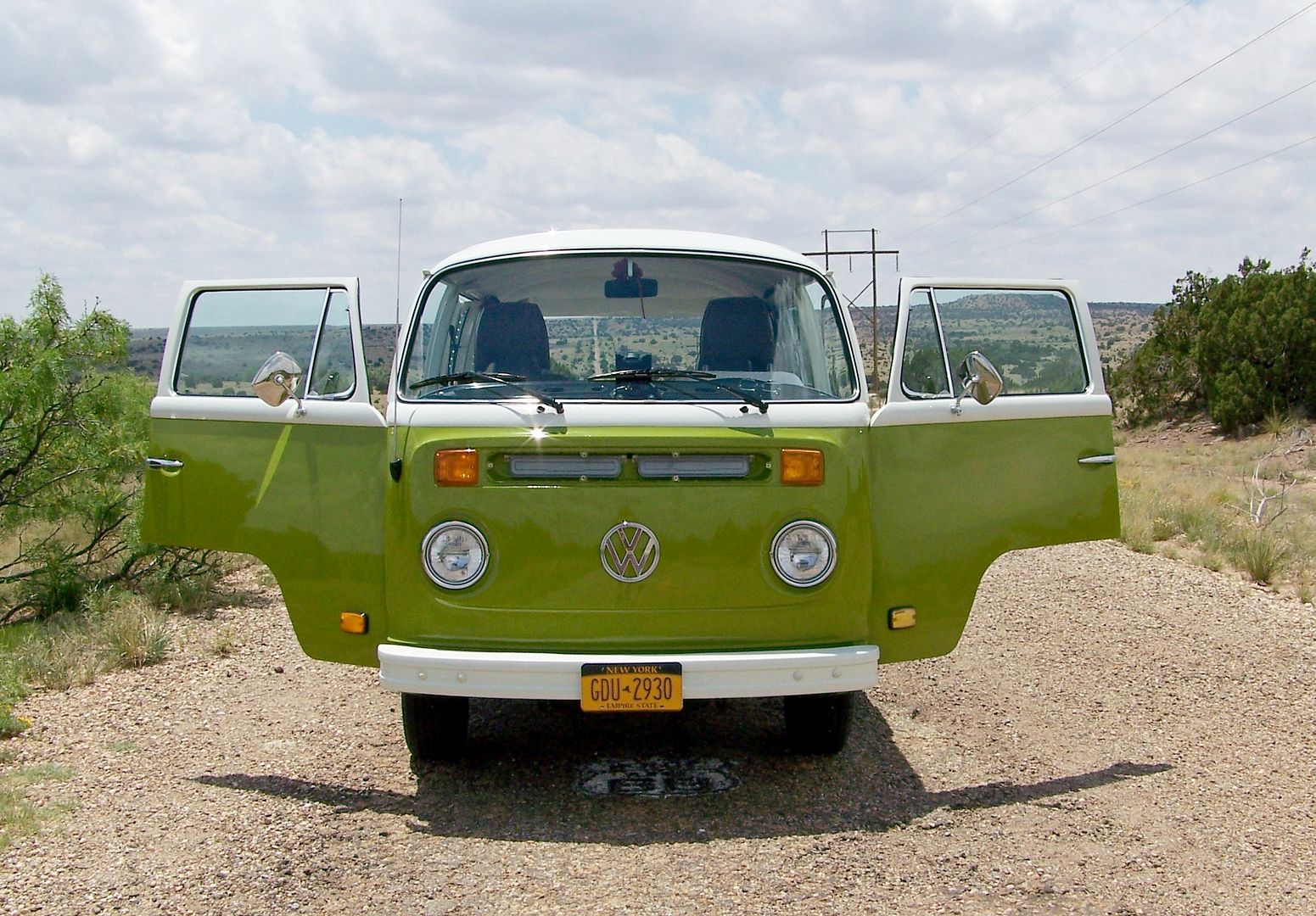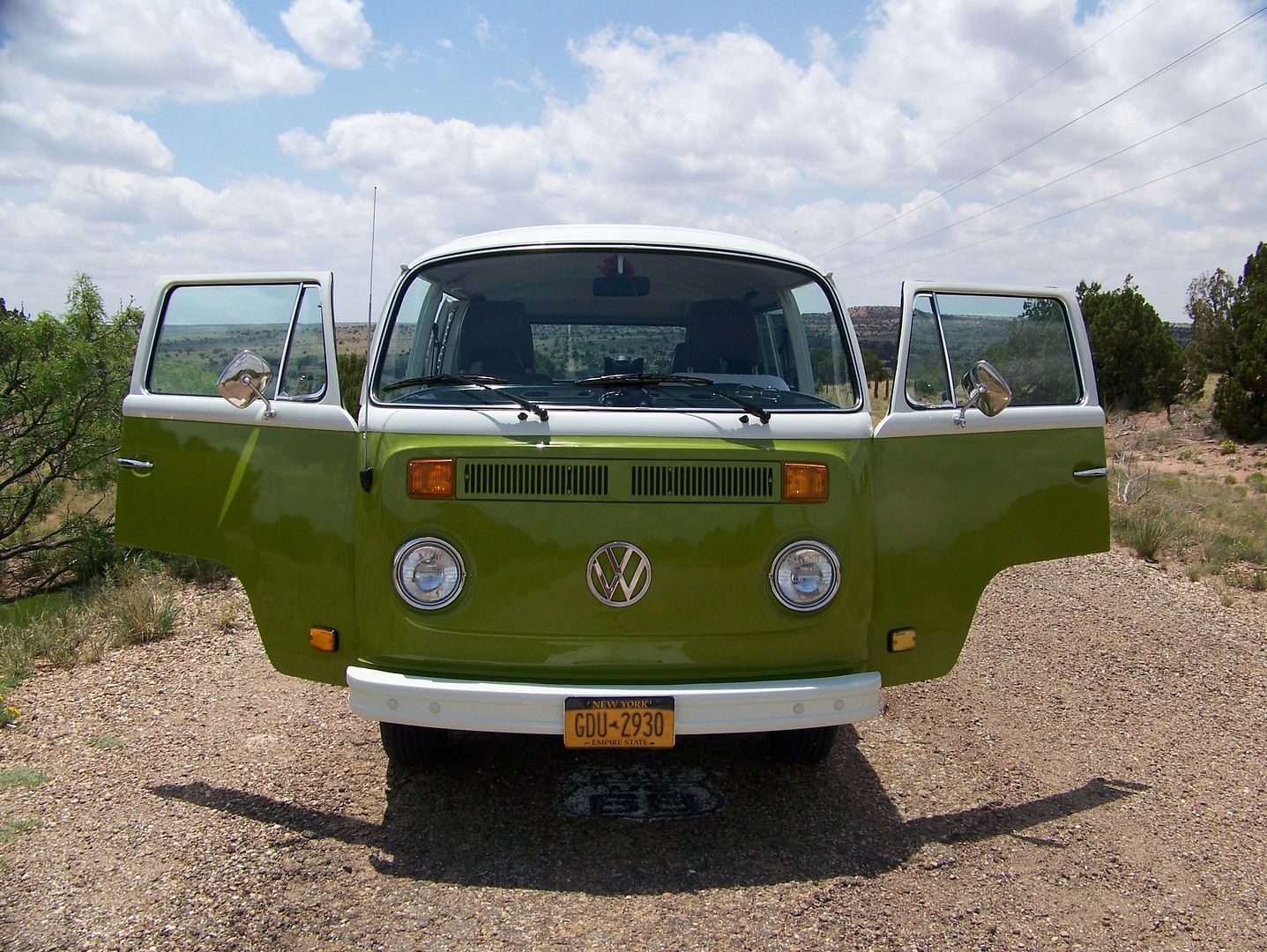 Drove to the hills where the winds got fierce. Sand and dust and a transaxle oil change?
(we're trying the Royal Purple fully-synthetic 75-140 "safe for bronze, brass copper" gear oil to see if there is any improvement in the failing second gear synchronizer action)
Discovered that my pump would only screw on the Sta-lube gallon bottles, and here I am with small quart bottles. Use a hose and squeeze the bottles under the car with all of this stupid blowing dust and sand?
Nope.
Fit a plastic bag over the America's Best Value ice bucket, poked a hole in it and filled it purple:
Then stuck the pump into the hole in the bag into the bucket. Worked like a charm:
Had a paper towel around the fill plug to keep out the windstorm. Got oily-dusty-ish anyway. Drained the engine oil and painted the strainer plate while another plastic bag was stuffed in the huge dust-n-sand entrance hole under the engine. A couple in a Jeep came dusting up.
"What are you doing, is everything OK, that's a nice van, need a ride into town, is it windy or what?"
"I am painting my strainer plate."
"Is it broken?"
"Nah, just a few chips really."
They set up their flapping banner AKA "tent", and drove off while I tried to put in three quarts of oil without the wind throwing it all around.
Drove along the edge of the collapsed caldera of an ancient volcano outside of Los Alamos:
The lighting was exquisite:
The transmission feels the same, but I rationalize that the synthetic gear lube will help the ring and pinion gears even if the 2nd gear synchronizer is still weak. My little little Volkswagen:
An even littler Volkswagen: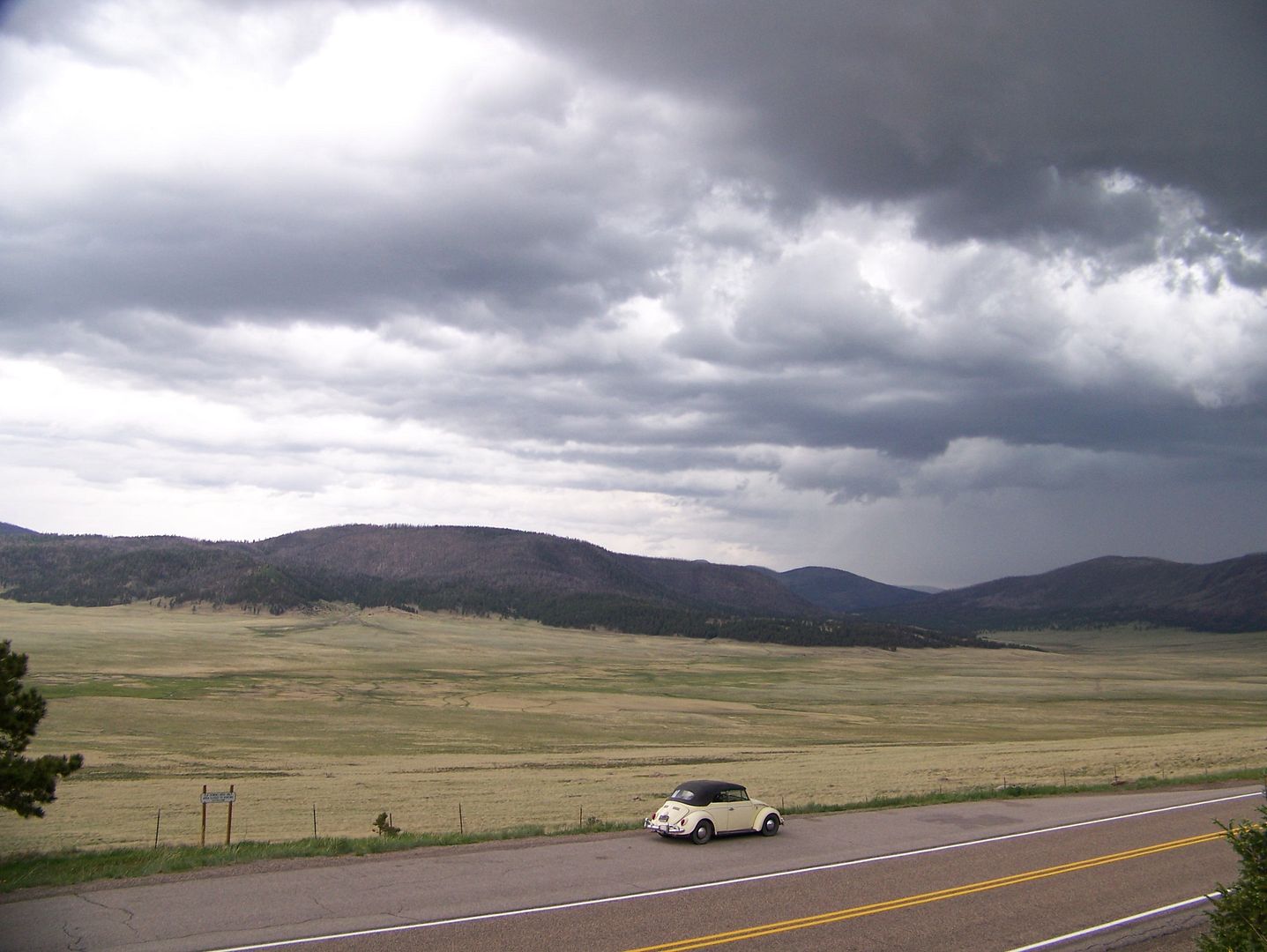 Driver is from Santa Cruz, California on a tour of the country.
"That looks like a '62"
"It is, how did you guess?"
"Long story."
"I have internet all the way out here!"
He proudly attempts to show me his laptop all fired up and internetted. But it is only 54* or something, and I am yearning to get back into the warm BobD.
"How is the bug running?"
"I haven't had any problems over the past four years."
1962 Volkswagens were like that:
The other compelling reason I wanted to scram was the rapid build-up of dark clouds:
Out west, you can gauge which way to flee, there is generally so little moisture in the air that you can see where the systems are, unlike the humidity soup of a down south summer day. Gorgeous lighting in New Mexico.
This shot was taken at the transfer station . . . dumpsters taking in the view with the BobD: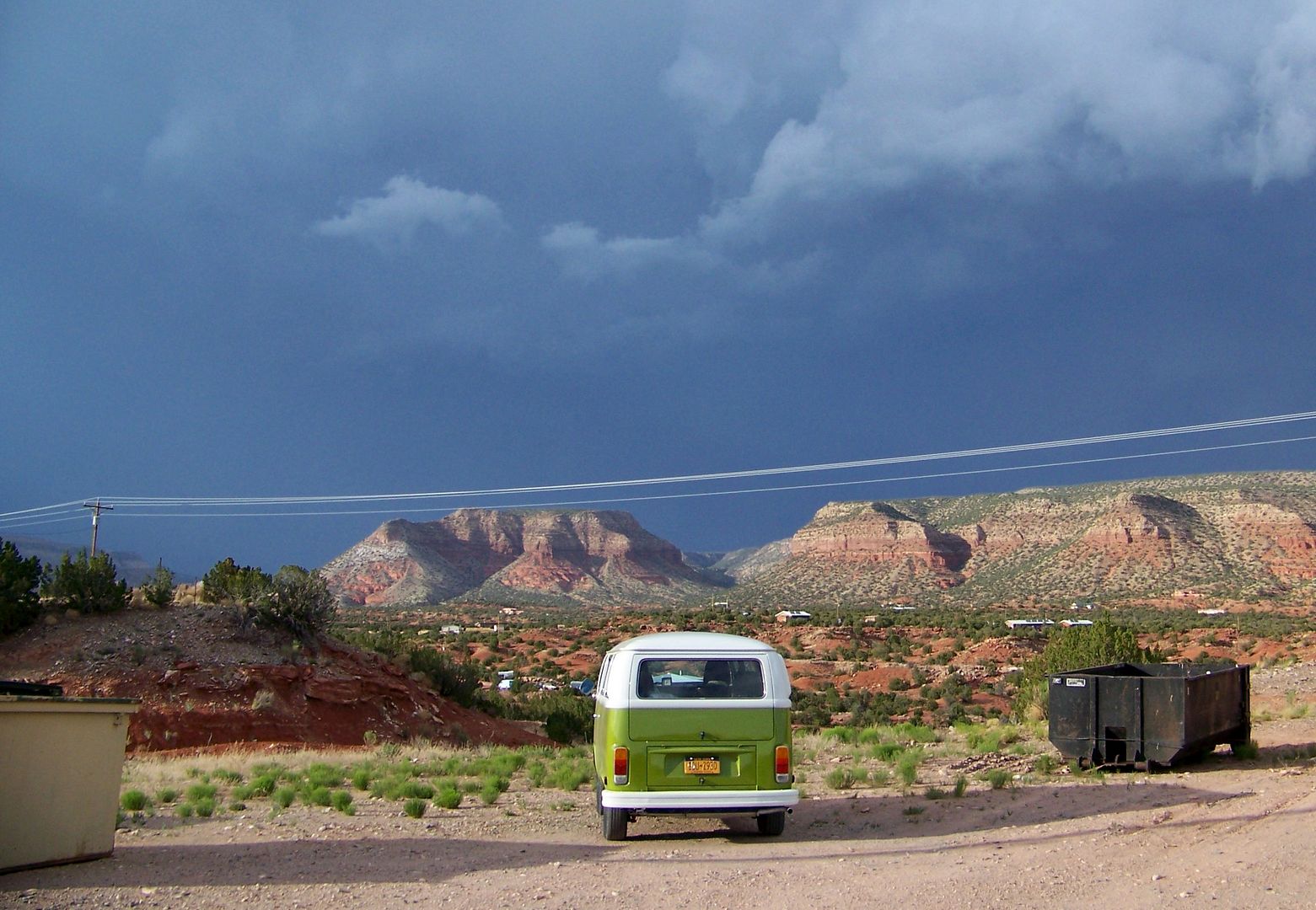 Must run, will post the rear brake backing plate repaint job later!
Colin