Yes, I actually have a couple of days to:
add inside flaps to the recently replaced vapor barriers to see if THAT stops the FLOOD of water that DRENCHED the seat areas. done!
change the oil (some brassy looking swirls and shards of aluminum, nice) done!
adjust the valves (painted the valve covers with real engine enamel) done!
compression test ( 140/135/130/130 ) done!
no need to touch the points or timing
AGAIN take apart the exhaust system AGAIN to try to AGAIN cure the exhaust leak AGAIN, but this time I decided to leave the muffler in place and just pull the exchangers forward off the muffler. done?
THIS TIME, I used a Diet Coke can with a layer of ultraorange under it to shim the stupid exchanger repair end that they make waaay too small for the gaskets. If this doesn't work, there are not enough brain cells left to even care:
LAST time, I used a new gasket kit from AlwaysVeedub in Portland. Repaired with HVAC tape to shim it up, I knew I had it licked this time!
But no, the HVAC tape blew out of there when the adhesive melted or burned away
.
Time before that, I used a serious quantity of Ultra Orange on the mesh gaskets and sealed the fresh air jackets after all of that California mountain driving was making me woozy with exhaust fumes. Man, I knew that was going to fix it for good this time!
: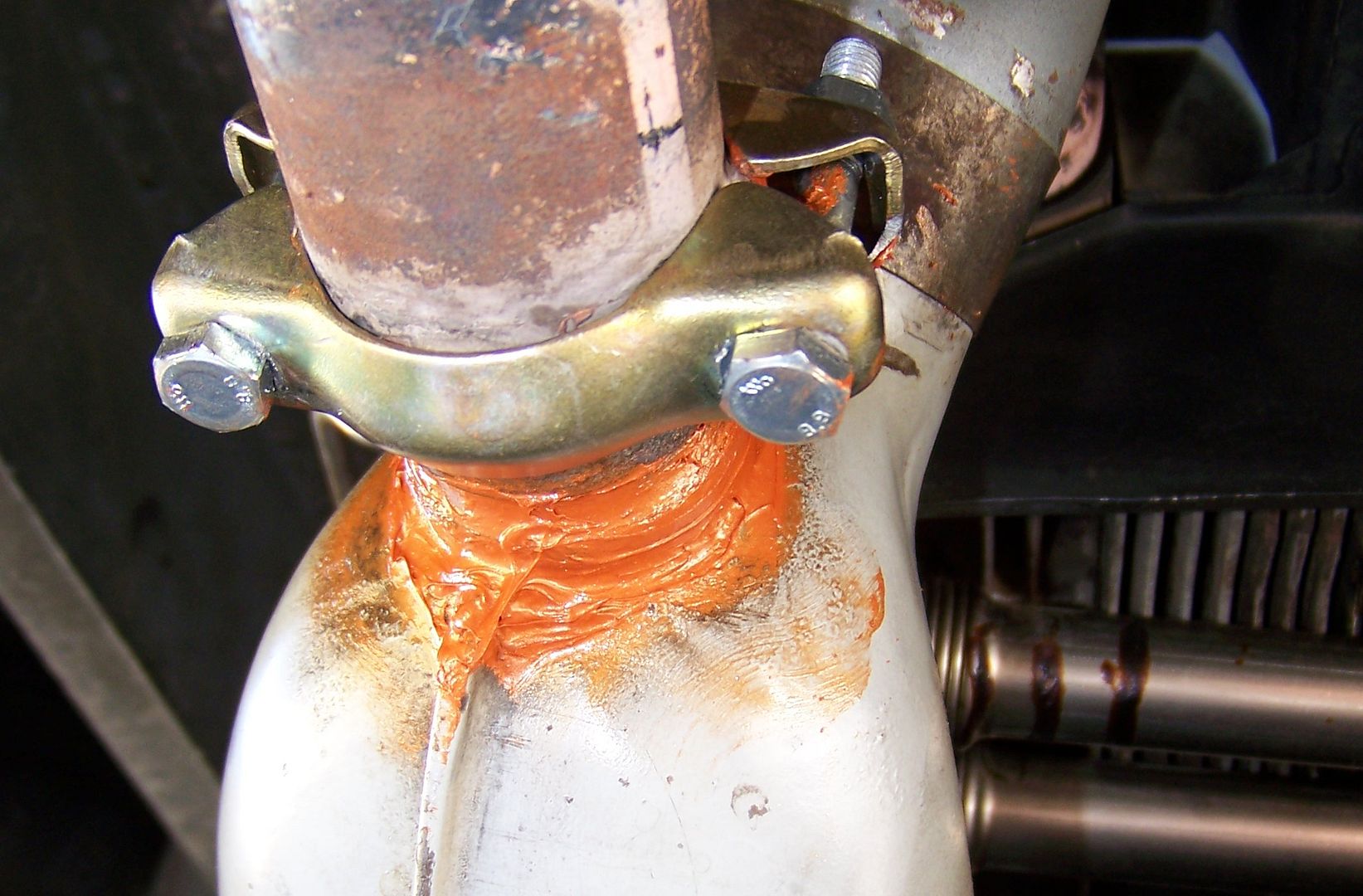 It was while performing the above repair at a park in Fairfield CA, that I saw the horrifying specter again of . . . a teenager Texting While Riding (poor horse!):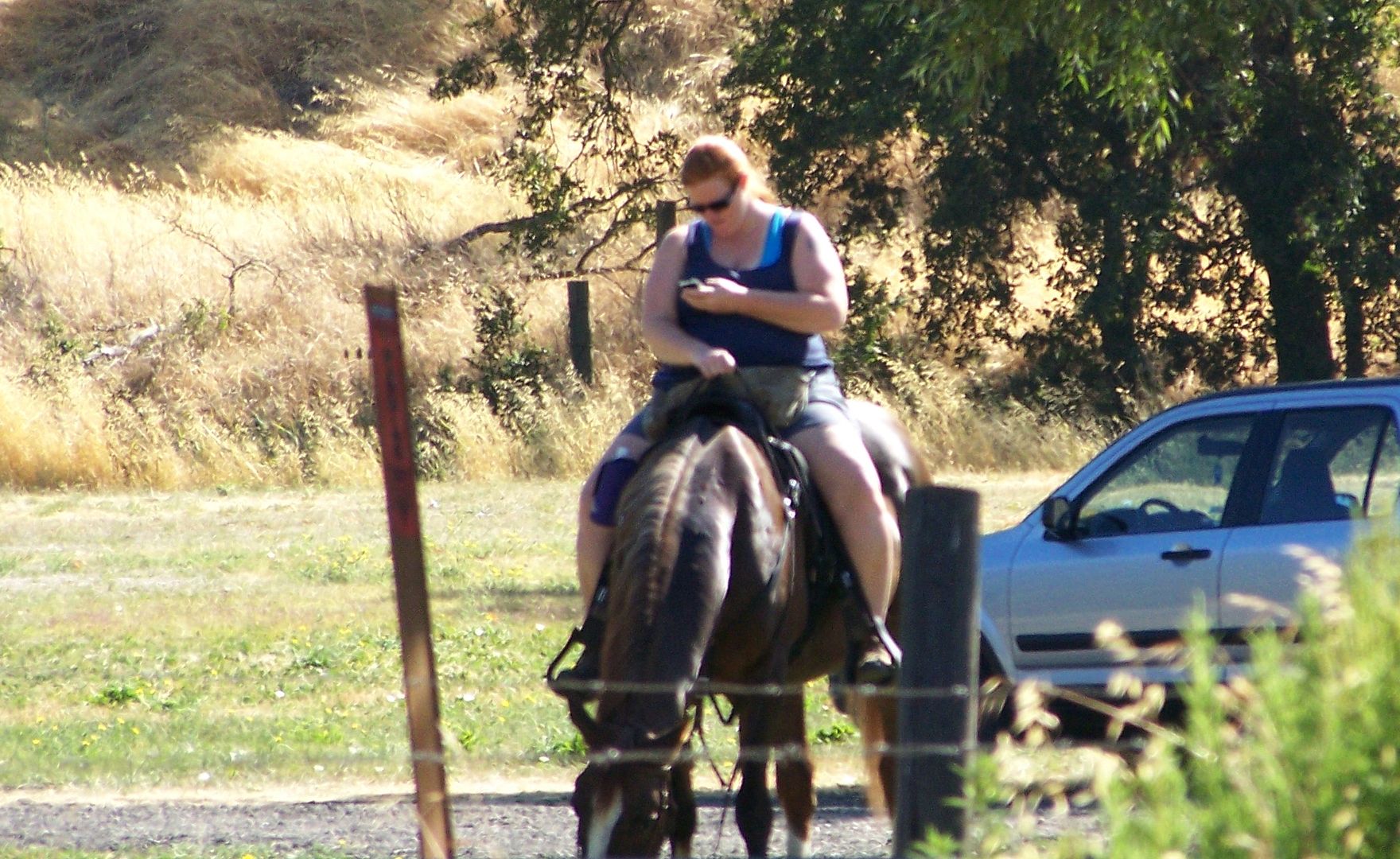 Time before the time before that, I put new gaskets in I think it was October somewhere in Nevada not days after picking the bus up
: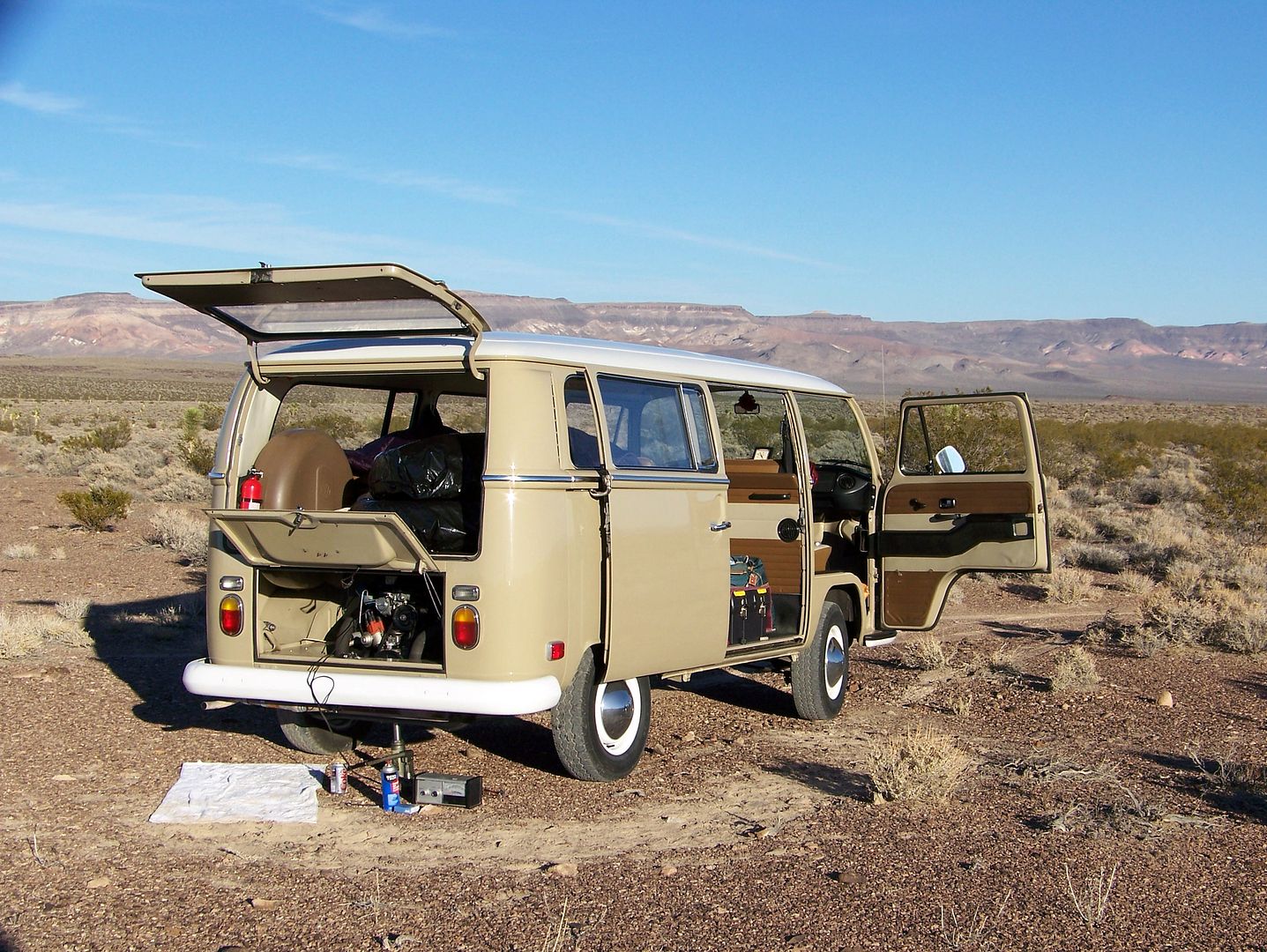 And of course, the time before the time before the time before that, Hambone and Ruckman101 were watching me slather ultra-orange on the split heat riser on the old muffler to get rid of any exhaust leaks . . .
October 7th or something, in Vancouver WA:
replace the ball joint boots
replace spring plate bushings and reduce rear camber a smidge
finish the undercoating job I started in Montana:
a) make holes in all weak areas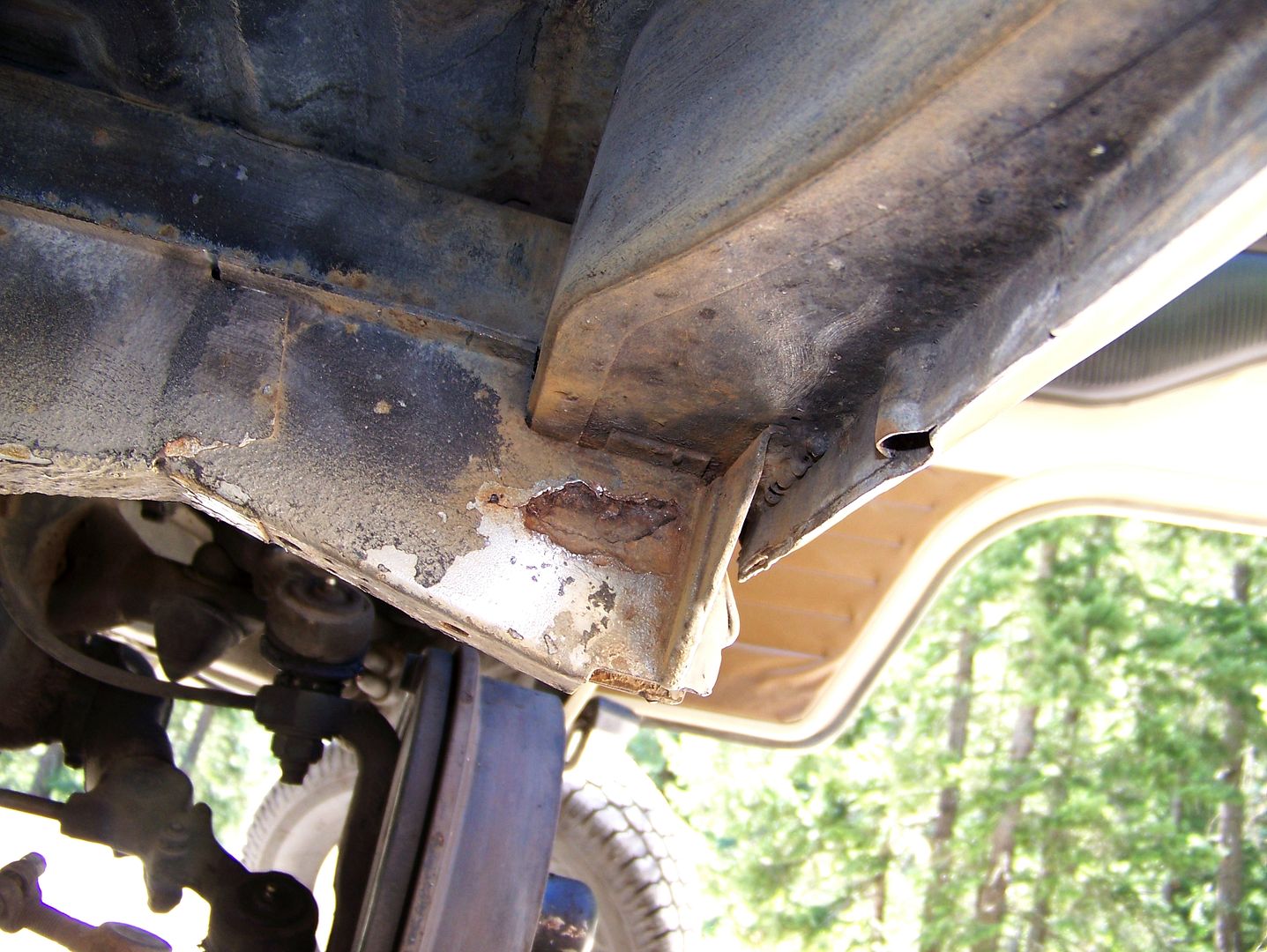 b) look at the bewildering amount of sand and rusty junk that was inside the "sealed replaced rocker panels whose paint is already blistering: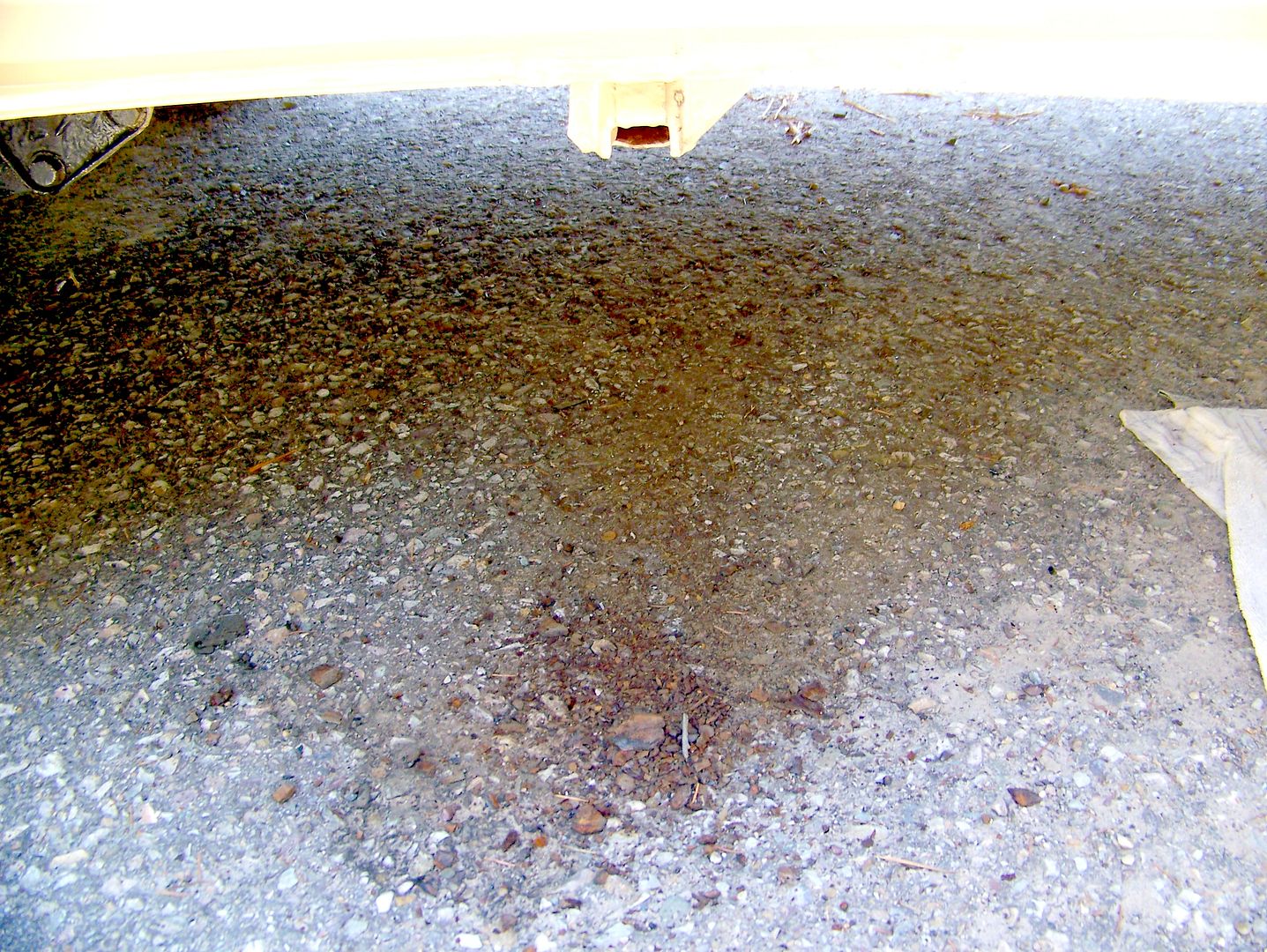 c) rust-catalyze prime all that exposed rust and spray rubberized undercoating at $7.97 a damn can X 12 cans, youch.
d) wax the poor thing.
The moonlit nights are beautiful, the countryside is gorgeous, the car is running exquisitely well except when it isn't, and I am being thrown out of here.
Wisconsin
Tomorrow will be a big day at the abandoned Michigan factory rear parking lot next to the Great Ruins of Rooftop Air Handlers rusting on the ground beside me.
Colin